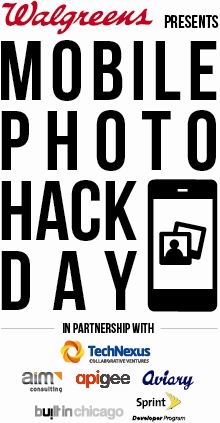 Walgreens is looking to enlist the best of the best in mobile photo application development. Your mission if you choose to accept it is to and create a groundbreaking mobile photo application using our QuickPrints SDK.
SKILLED HACKERS: Mobile photo application developers (iOS & Android only)
HACKING DATE: 11 August 2012 9:00AM - 8:00PM
HACKING LOCATION: 36 South Wabash Floor 4, Chicago, Illinois 60603
PARTICULARS: Hacking fuel will be provided throughout the day
ENLISTMENT: Free, PLUS all hackers will receive a Dev. sWAG bag and everyone who demos their app will receive a Walgreens Photo Gift Card
REGISTRATION: hackatopia.com/events/walgreens-mobile-photo-hack-day
DEADLINE FOR REGISTRATION: 9 August 2012
REWARDS: $5,000 in cash prizes and complimentary mentoring and residency within TechNexus incubator and collaboration center for 6 months
START HACKING:

What you can do before hack day:
Come up with ideas for your app + start development.

What you can't do before hack day:
Actually integrate the QuickPrints SDK in your live app.
Look at the code.