---
We are just beaming to announce the fact that one of our newest Prescription API partners is Glow, for
iOS
and
Android
.
Glow's menstrual and ovulation calendars help women learn about their fertility, whether avoiding or attempting pregnancy. Glow (
https://glowing.com
) 
is a period tracker that also records your ovulation, mood, symptoms, sex, and medications, and assists those undergoing fertility treatments like IVF or IUI. 
With their latest app release, Glow also allows for male partners to have their own experience within the Glow app that helps them track their own fertility health.
"Partnering with Walgreens will make it easier for women to manage their reproductive health and family planning," says Jennifer Tye, Glow's Vice President of Partnerships and Marketing. "The Glow App empowers users to take control of their reproductive health, and we're excited to give Glow users simplified access to birth control within the app. We believe that women should have access to information and insights about their bodies and their health, in every phase of their life. Our partnership with Walgreens is an important step in furthering that mission."
---
---
Walgreens is extremely excited to announce a new integration with WebMD with the Walgreens Prescription and Balance Rewards APIs. Within the
WebMD iPhone app
, customers can take advantage of the Prescription Refill & Transfer APIs within the "Health Tools" section of the app and participate in our Balance Rewards program within the "Healthy Target" feature. For WebMD 
Android app
 customers, the ability to refill or transfer a Walgreens prescription is available within the "Health Tools" feature.
WebMD offers physician-reviewed health content and interactive tools in addition to on-demand healthy living information. The innovative design marries content and utility informed by more than five years of user insights and feedback.
WebMD for iPhone also features Healthy Target, an innovative health improvement program that will help you create and sustain healthy habits. By connecting an activity tracker, wireless scale, blood pressure monitor, or glucometer you'll be able to view all of your data in one location and receive WebMD contextual content and insights while getting rewarded for making healthy choices with the Walgreens Balance Rewards API integrated into the WebMD app. 
Now hold your, because you can also use the WebMD iPhone and Android apps inside the Health Tools to Refill and Transfer you prescriptions to Walgreens via the Prescription API. WebMD allows you to scan or manually enter the prescription for refilling and send a photo of the prescription bottle for transferring to Walgreens.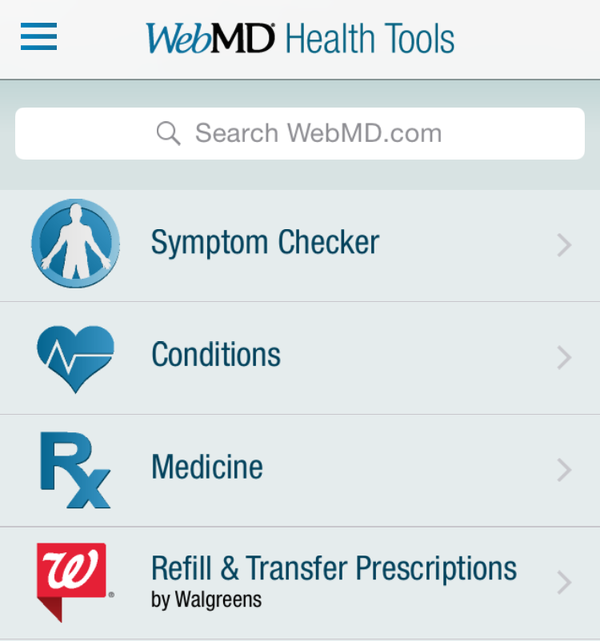 ---
---
Walgreens is always excited to see innovation happening with our developer program and with the newest Photo Prints API integrations by 
Pixicle
and Photofy, we are happy to see the creativity continue!
Pixicle Storybooks
 (
for iOS) 
allows you to create photo books
like you've never seen before. Create your very own books of your vacations, family events or for that special someone right from your iPhone or iPad in as little as 3 minutes. Pixicle has over 150 beautifully created custom themes so you can always find one to fit your occasion. Being able to use the our Photo Prints API for same day pickup makes this application a wonderful choice when looking to build your next photo book.
Photofy
(for
iOS
 and
Android
) 
is a super easy photo enhancement experience that combines one of the world's largest collection of overlay content (38,000 graphic elements, 90+ free fonts, and 30+ free filters & effects) with an intuitive free-form creation process that enables users to create single images or collages to share with the world. With the addition of the Photo Prints API, you can now print your photo creations that can be picked up in as little as an hour at your local Walgreens or Duane Reade!
Check out these two awesome integrations today!
---