Showcase of applications integrated with Walgreens APIs.
---
Walgreens is proud to introduce Rage Camera Pro as a new partner for the QuickPrints Developer Program. 
Rage Camera Pro for the iPhone and iPad is a one of a kind meme creator. Using signature meme face detection technology, any moment or favorite photo can be transformed instantly into your own meme. Rage Camera Pro provides users with hundreds of different meme comics to choose from, as well as nearly one hundred filter options to enhance and customize your favorites. Using the Viewmaster to combine photo filters the possibilities are endless, and so is the fun.
Users have always been able to post their Rage Camera Pro memes to Facebook, Twitter, Instagram, and Reddit, or share them through email. Now, with Walgreens QuickPrints, you can print out your memes with ease at any local Walgreens. QuickPrints is a wonderful new convenience for our users who want to take fun pictures, edit, share, and print them on the go.
Download the Rage Camera Pro app for iPhone & iPad today in the iTunes App Store.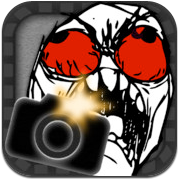 ---